Dear readers,
Thank you very much for sharing China Daily stories with your WeChat, a popular social network app.
Unfortunately, depending on the mobile explorers you are using, such as Chrome, Safari, Firefox or Chinese counterparts like Baidu, QQ or UC Web, the ways to share the news story on WeChat Moments differ a lot, from a simple one-click to a challenging posting-posting-deletion step.
We can not provide one solution that works well on all explorers. Please let me know if you have one.
Here's the perhaps most challenging step to share with Safari, in six steps.
1. Open the story with Safari, and then copy the link.
2. Open your WeChat and go to Moments (peng you quan in Chinese) in social tab.
3. Click the button in the upper right hand corner for a long time until you see a pop-up text box.
4. Paste the story link in the box and press Send. Now when you go to your WeChat Moments page, you can see the story published in the form of link.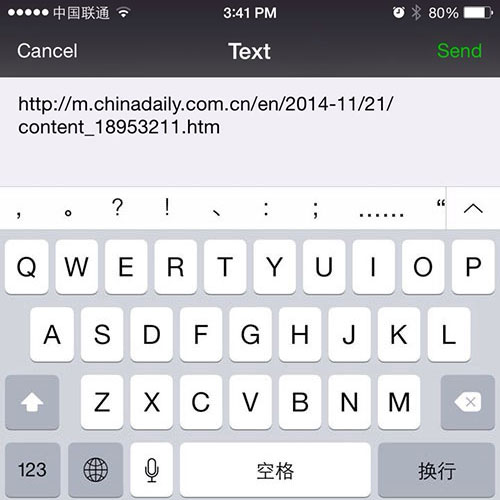 5. Click the story link on your Wechat Moments page and it will open in WeChat. Then Click the button in the upper right hand corner and choose the icon Share on Moments to publish again. Great, you are almost there.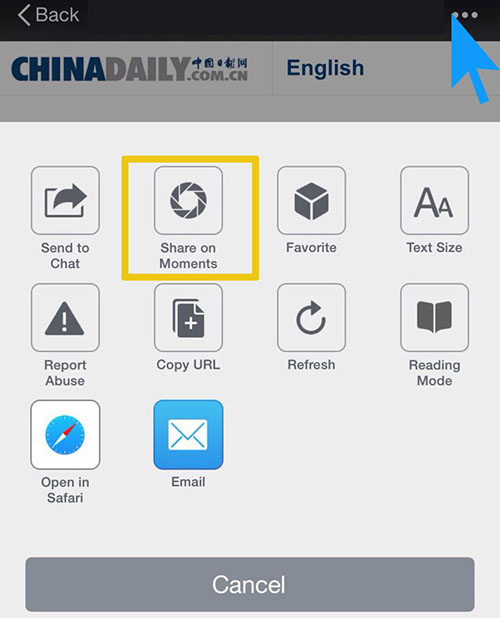 6. Please delete the first feed on Moments page so it doesn't have two posts of the same story.